Yellow Card Bets Could Soon Be Ejected From Soccer in the European League
Posted on: August 28, 2023, 06:35h. 
Last updated on: August 28, 2023, 06:35h.
The sports betting ecosystem is one that has to maintain a great amount of fluidity, as the nature of the game is constantly changing. The latest evolutionary step could see the end to bets on yellow cards and other penalties following several high-profile match-fixing and betting scandals.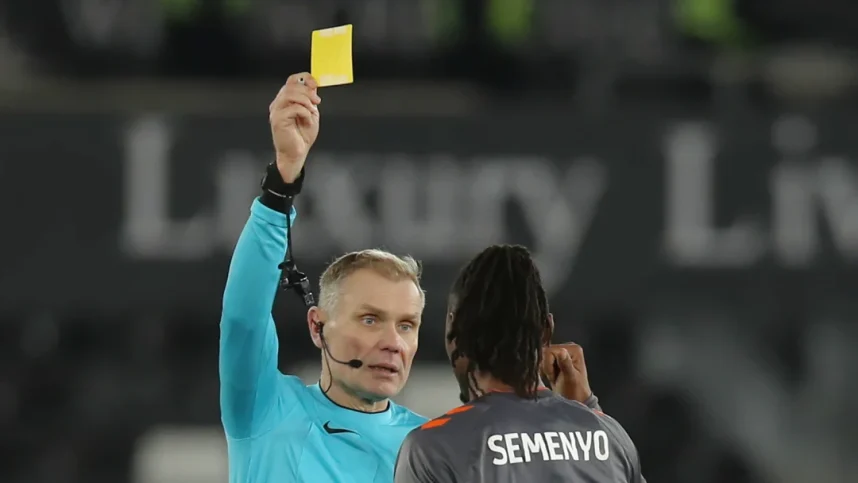 Growing unease is gripping sports authorities in England due to players allegedly exploiting games for personal financial gain. This is giving rise to concerns regarding the imminent onset of match-fixing predicaments within the Premier League and its subordinate divisions.
As a result, the Football Association (FA) is urging betting companies to cease the practice of wagering on yellow cards in soccer matches, according to the Daily Mail. The media outlet asserts that the FA has already engaged in discussions with both the betting sector and officials regarding this matter, and a change may be imminent.
No More Bookings In Regulated Sportsbooks
Premier League officials will likely endorse any proposition to ban betting on yellow cards. Moreover, the organization aims to prohibit betting on other penalties, including red cards and other types of bookings.
The FA may explore various possibilities, including prohibiting betting on corner kicks – including the number of corners in a game – and similar wagers. Daily Mail points out that some operators, including Unibet and 32Red, have already voluntarily decided to quit offering wagers on penalties and similar in-game actions.
There are certain sports betting markets, such as that of Germany, that have already implemented a ban on yellow card betting. The FA's move would be a continuation of that initiative, which has also made its way to Sweden, and which could eventually become global.
The FA and the Premier League support the idea, but that doesn't mean that it could become reality. However, the initiative is reportedly gaining momentum where it's needed most. The UK's Department of Digital, Culture, Media and Sport, which helped shape the gambling white paper, likes the idea, as well.
There's no clear indication of when the change could come or if it's definitively going to be accepted. The FA has to convince all of the regulated sportsbooks to play ball, as well.
It has to also be mentioned that the FA's decision would only impact those regulated sportsbooks. There's little that can be done to prevent non-regulated betting platforms from putting up lines on virtually anything they want.
The Changing Tide
These developments arise amidst an ongoing investigation into West Ham United's Lucas Paqueta. The FAQ is delving into three particular situations where a yellow card was issued against him in games.
But he's just the most recent player under scrutiny for potential misconduct. Ivan Toney is taking a break from English soccer after admitting to breaking FA's anti-betting rules 232 times. He later asserted that he didn't commit many of those violations.
There have been several investigations regarding players and their activity on the field in the last five seasons. Granit Xhaka, while playing for Arsenal, and Ciaran Brown, a defender from Oxford United, had been investigated but never charged. Kynan Isac, previously a defender for Reading, received a ban of 12 years as a consequence of his lack of self-control in a match belonging to the FA Cup.
Luiz Henrique, currently with Spain's Real Betis, is under investigation for his alleged participation in sports betting fixing in Brazil. The 22-year-old attacker was summoned to testify by his country's Congress along with Paqueta.
As in most sports, FA athletes and others with ties to the organization aren't allowed to bet on the sport. Some athletes have tried to argue that they weren't aware of the rule, although that lie deserves a red card.
In the US, the country with one of the youngest regulated sports betting markets, betting on sports by athletes and league or team officials has long been taboo. Pete Rose knew that when he bet on games in 1989, and Pee-wee football players and Little League baseball players as young as nine know it. This late in the game, every athlete knows it.