Virginia Casino Workers Join Coalition to End Indoor Smoking
Posted on: June 6, 2023, 09:17h. 
Last updated on: June 6, 2023, 09:34h.
Virginia casino workers in the recently liberalized commercial gaming market have joined a nationwide group of gaming industry employees who are fighting to end indoor smoking.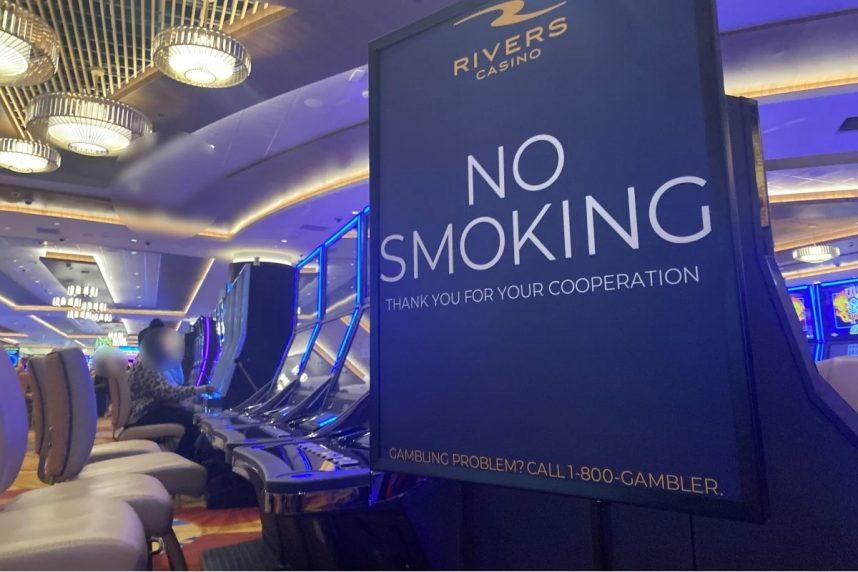 CEASE, Casino Employees Against Smoking Effects, was founded in Atlantic City during the COVID-19 pandemic. The grassroots coalition was formed after New Jersey Gov. Phil Murphy (D) ended his emergency health order in July 2021 that had temporarily banned casino smoking.
New Jersey's 2006 Smoke-Free Air Act prohibits indoor tobacco smoking in most public places, but the law provides a caveat for Atlantic City casinos that allows them to designate up to 25% of their floor space for cigarette smoking.
CEASE has expanded its reach with several state chapters, with the latest being in Virginia where commercial casinos only opened last year. The commonwealth today is home to three casinos, including the permanent Rivers Casino Portsmouth and two temporary casinos, Hard Rock Bristol and Caesars Danville.
Workers Want Clean Air
Similar to New Jersey's clean indoor air law, Virginia's Indoor Clean Air Act, passed in 2009, provides exceptions for gaming facilities. At the time of the law's passing, Virginia's commercial gaming industry was limited to horse racetrack pari-mutuel wagering and off-track betting. Virginia also operates a lottery.
The horse racetrack and OTB facilities may permit indoor smoking anywhere, and that smoking allowance is now being lent to the state's casinos. Unlike in Atlantic City, the Virginia casinos can use as much of their floor space as they wish for indoor smoking.
After an outcry following the January opening of Rivers Portsmouth, the casino reconfigured its gaming floor and designated nonsmoking sections. Rivers Portsmouth says its gaming floor is currently 80% smoke-free.
A group of casino workers in Virginia want state lawmakers to force the casinos to go entirely smoke-free. Juana Wilson, who after briefly working at Rivers Portsmouth until the lingering smoke became too much for her to bear, founded the CEASE Virginia chapter.
"It wasn't until the first day that Rivers Portsmouth opened that many workers learned that smoking would be allowed inside the casino," Wilson explained to Casino.org.
I loved my job but I quit because I had severe health reactions to the smoke and had to start using an inhaler again after years of not needing one," Wilson continued. "I tried to deal with it because I am paying for my daughter's first year of college but I refuse to be poisoned in exchange for a paycheck."
Wilson said she's a nine-year cancer survivor and won't "risk the chance of getting cancer again" because smoking is allowed where she works. Wilson and CEASE Virginia are calling on Rivers to fully ban indoor smoking, and are calling for the Virginia General Assembly to terminate the indoor casino smoking loophole through legislative action.
CEASE Scope
With CEASE Virginia, the anti-casino smoking advocates now have chapters in New Jersey, Pennsylvania, and Rhode Island. Despite the organization's efforts, no smoking laws have changed since the group's initial formation in 2021.
The US Centers for Disease Control and Prevention (CDC) says cigarette smoking rates are at an all-time low, with only one in nine adults reportedly being smokers. The CDC also said recently that the only way to assure worker and patron safety from secondhand smoke inside casinos is to make the property 100% smoke-free.