Thai Police Officers Busted for Ignoring Illegal Casino
Posted on: August 14, 2023, 07:59h. 
Last updated on: August 14, 2023, 01:00h.
Not only does Thailand have to contend with people walking around as fake cops to steal money for gambling, but it also has to deal with real cops turning a blind eye to illegal casinos in front of them. In an effort to clean up law enforcement, the country is cracking down on officers who don't take their jobs seriously. It has reassigned five top cops for not taking action against an illegal casino.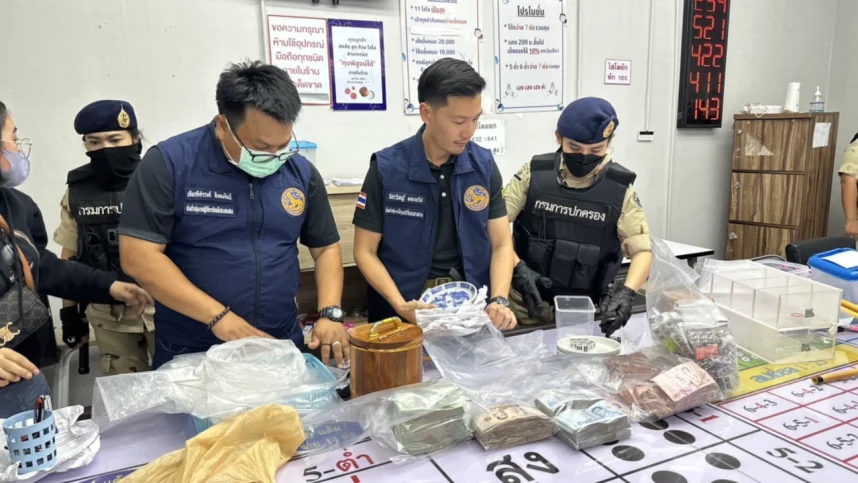 Under their supervision, several gambling dens escaped retribution. Now, following a complaint received by the authorities, the officers might consider any chance of a career advance over.
Local media outlet Thairath Online reports that the complaint was on the 89 CLUB in the Muang district in central Thailand. Thawatchai Pongwiwattanachai, the chief of police of the Kanchanaburi province, announced on Thursday that he ordered the relocation of the five officers to "non-executive roles."
Disregard for Law and Order
Following the complaint, authorities stormed the 89 CLUB on Wednesday, uncovering sophisticated and somewhat hazardous activities that had been taking place almost out in the open. The casino can hold up to 300 customers, but only had one exit.
89 CLUB reportedly provided a wide range of gambling options, including Dragon Tiger card games, Hi-Lo, and baccarat. While the official numbers aren't available, it's believed that at least 100 people visited the casino on a daily basis.
As a precautionary measure, the casino had been equipped with an elaborate surveillance system. Around a dozen CCTV cameras were strategically positioned to oversee the activities. Adding to the security, anyone entering the establishment had to relinquish their phone or mobile device.
Law enforcement apprehended 104 individuals during the raid, including croupiers and patrons. They also seized an unspecified amount of cash, gambling equipment, and vehicles.
The police took all 104, as well as the evidence, to a local station. The accused face varying degrees of charges related to their involvement in illegal gambling, from participation to operations.
Another location was also mentioned in the complaint. The Phattarawan Snooker Club, also in the Muang district, regularly operated as a gambling hall. Police didn't specify whether a raid was conducted on the property.
Scourge of Thailand
Pongwiwattanachai expressed concerns over how these establishments, as well as rogue cops, have tarnished the city's image, and consequently took decisive action by commanding the restructuring of the force. He didn't name the five ranking officials, nor did he accuse them of actively participating in the gambling activity.
Instead, their relocation is designed to send a message. The police chief said that this will allow the force to fortify its systems against illegal practices and ensure officers refrain from participating in any shady undertakings.
Cleaning up the police force's image might also be possible through expanded legalized gambling. Efforts are underway to add regulated casinos to the landscape, although legislative discussions have been ongoing for two years with only small steps being taken.