Queen Las Vegas LGBTQ+ Boutique Hotel to Open North of Strip
Posted on: August 4, 2023, 11:12h. 
Last updated on: August 4, 2023, 11:23h.
Queen Las Vegas, a boutique hotel and gaming lounge tailored for the LGBTQ+ community, is slated to open this fall on S. Las Vegas Blvd. north of the Strip.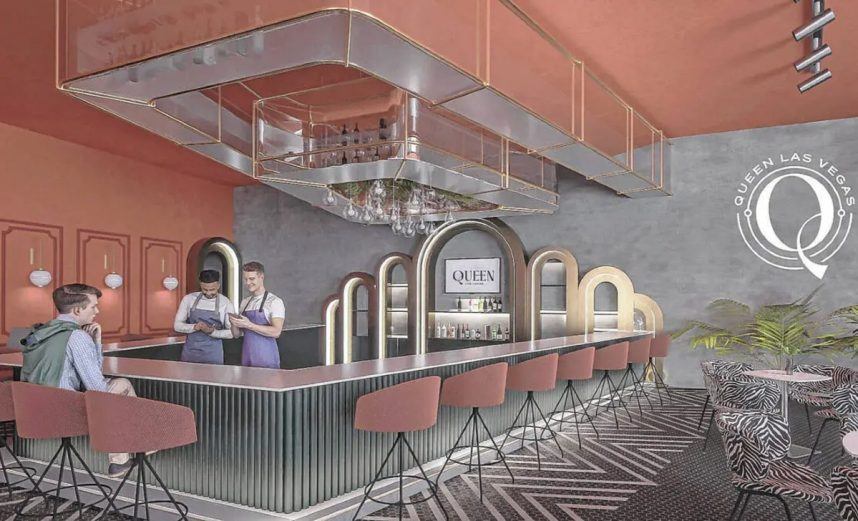 The property at 1215 S. Las Vegas Blvd. is located in the Gateway District just north of the historic Little White Wedding Chapel. The Queen boutique hotel is part of the Thunderbird Hotel complex, a 100-room facility.
Owned and operated by Q Group Hospitality and its CEO Eduardo Cordova, a recognized LGBTQ+ nightlife promoter in Southern Nevada, Queen Las Vegas will occupy 28 rooms of the Thunderbird. The designated rooms will cater to LGBTQ+ people and additionally offer a distinctive gaming lounge, restaurant and bar, and nightclub.
It has been my mission to create a vibrant and inclusive entertainment district for our LGBTQ+ community, and I'm thrilled to announce that Q Hospitality Group has secured a prime location … to create the gayest destination in Las Vegas," said Cordova.
Queen Las Vegas will feature daily "high-energy drag performances" with a DJ evoking the "party lifestyle while the girls, gays, and 'theys' enjoy brunch or dinner over a lineup of resident queens, delectable dishes, bottomless mimosas and vibrant craft cocktails, and a world-class nightclub featuring over 50,000 LED lights."
Thunderbird Staying
For Thunderbird's loyal guests, the boutique property isn't going anywhere, though it will see its room allotment reduced to 72.
The Thunderbird is popular among budget travelers. A last-minute booking for a room Friday night costs $165 inclusive of all taxes and a $17 nightly amenities fee. A similar king-bed guestroom at the nearby Strat on the Strip's northern edge costs $226 all-in.
While many hostels and motels between the Strip and downtown Las Vegas are in poor condition and guests frequently cite uncleanly rooms, the Thunderbird maintains a 3.6/5 rating on nearly 1,000 Google reviews. Though safety and noise complaints are frequent, Thunderbird guests have given the hotel high marks for cleanliness, the pool offering, and nearby dining options.
Queen LV will bring a small gaming lounge to the property, something the Thunderbird has lacked. Q Hospitality, however, does maintain a gaming license for the property for its bar-top gaming machines.
Q Hospitality didn't provide specifics on the scope of Queen Las Vegas' gaming lounge. The company said only that a "gaming lounge" will be included in the LGBTQ+ project.
Fall 2023 Opening
Q Hospitality is moving quickly to open Queen Las Vegas. The company plans to open the LGBTQ+ Las Vegas boutique sometime this fall.
Queen Las Vegas is holding a job fair Friday from 2 to 5 p.m. PST. Available positions include a general manager, an assistant general manager, bartenders, servers, and kitchen staff.
The forthcoming hotel's website, queenlv.com, dubs the property as "The Gayest Destination on the Strip," though the Thunderbird/Queen is not actually on the defined Strip.
In April, the Bent Inn at 207 N. 11th Street near the Fremont Street Experience announced that it would overhaul its concept to become "the only LGBTQ+-owned and operated boutique hotel in Las Vegas. The property's 33 "playfully designed" rooms that are "bending the LGBTQ+ Las Vegas experience" are expected to open later this summer.