Indy Explains: What is the status of cannabis rescheduling in Nevada?
Officials with the Cannabis Compliance Board (CCB) are preparing to study rescheduling cannabis in Nevada to align with the Biden administration's recommendation that seeks to lower its federal drug classification from Schedule I to Schedule III — a recommendation that's part of the president's stated goal to reform marijuana policy. 
The group has convened three times since the announcement in late August — inviting litigators and policy experts, who have worked for federal regulatory agencies, to shed light on what may come. The advisory subcommittee decided to pursue a state-level examination focused on the potential effects of cannabis becoming a Schedule III drug in Nevada, even though some advocates want to study a more sweeping policy — removing cannabis from the federal drug list altogether. 
Schedule I is the most scrutinized drug classification category and includes heroin, LSD, peyote, methylenedioxy-methamphetamine and ecstasy. Schedule III substances, which have been accepted as medicinal and are deemed less likely to be abused, include ketamine, anabolic steroids, testosterone and products containing less than 90 milligrams of codeine per dosage unit. 
Only one thing is guaranteed to change for the commercial cannabis industry between the two scheduling classifications. Tax benefits.
According to Layke Martin, the executive director of the Nevada Cannabis Association, cannabis businesses, because they are federally illegal, currently pay an effective tax rate of as much as 74 percent, compared with alcohol businesses, which pay 21 percent or less. The businesses are ineligible for certain federal tax deductions — including advertising, wage and salary and travel write-offs — as long as cannabis is Schedule I.
Those formerly convicted of cannabis charges, patients and industry professionals pushed back against the commission's priorities, preferring a focus on descheduling. Descheduling means cannabis is removed from the controlled substances list, which Congress created in 1970 to "regulate the manufacturing, distributing, importing/exporting, and use of regulated substances."
During the public meetings, proponents of descheduling said they feared that the focus on simply downgrading marijuana's ranking on the controlled substances list rather than taking it off the list altogether could lead to policy recommendations that would walk back the state's progress in cannabis legalization. 
They also voiced concerns that rescheduling could open the doors to pharmaceutical giants that would uproot cannabis culture, intensify "corporate cannabis" and fail to address harm and racial disparities from decades of the so-called war on drugs.
"I understand the discussion on rescheduling for federal, but Nevada has spent decades working with laws and regulations outside of federal," said Jason Greninger, a member of the cannabis trade organization Chamber of Cannabis, told a CCB advisory subcommittee on Sept. 15. "So the state has already determined that it is descheduled by constitution."
The committee was mandated to study federal and state laws and regulations concerning the removal of cannabis from Schedule I through SB277, which was passed in the 2023 legislative session. They are required to have a report ready for the Legislature by March 2024 that includes their research findings and policy recommendations.
Criminal penalties still exist for unlawful possession of cannabis, with repercussions based on the amount involved and proof of purchase or agent card. Those will remain in some form as long as cannabis remains scheduled by the Controlled Substances Act.
"I know there are some folks who think the state's discussion [about descheduling] is more important," said Sen. Dallas Harris (D-Las Vegas), who sponsored SB277. "And then some folks think the federal discussion is more important … but they're both going to impact the industry in different ways."
Nevada's path to cannabis decriminalization 
Medicinal cannabis use was legalized in Nevada in 2000, followed by laws allowing for medical dispensaries in 2013 and a 2016 ballot measure legalizing recreational use.
The emergence of the legal cannabis industry in Nevada has continued even as the federal prohibitions stayed in place.
Cannabis was descheduled in Nevada last fall after advocates won a lawsuit against the Nevada Board of Pharmacy that required the agency to remove the substance from the felony drug list, but the pharmacy board appealed to the Supreme Court, asking to maintain the status quo.
According to Brett Kandt, general counsel at the Nevada Board of Pharmacy, the governing body "retains the authority to schedule marijuana" because the Nevada Supreme Court issued a stay of the district court's order while the appeal is pending. Kandt said that means cannabis is Schedule I until a ruling from a judge.
During the 2023 legislative session, lawmakers passed Assembly Joint Resolution No. 8 that urged Congress to deschedule cannabis nationally. If cannabis is descheduled, it would no longer be governed under the Controlled Substances Act, modeling the 2016 ballot measure that voters approved. The initiative called for cannabis to be regulated in a manner similar to alcohol in Nevada.
A private citizen was the sole opposition to the resolution during a hearing, citing federal warnings about marijuana's health side effects.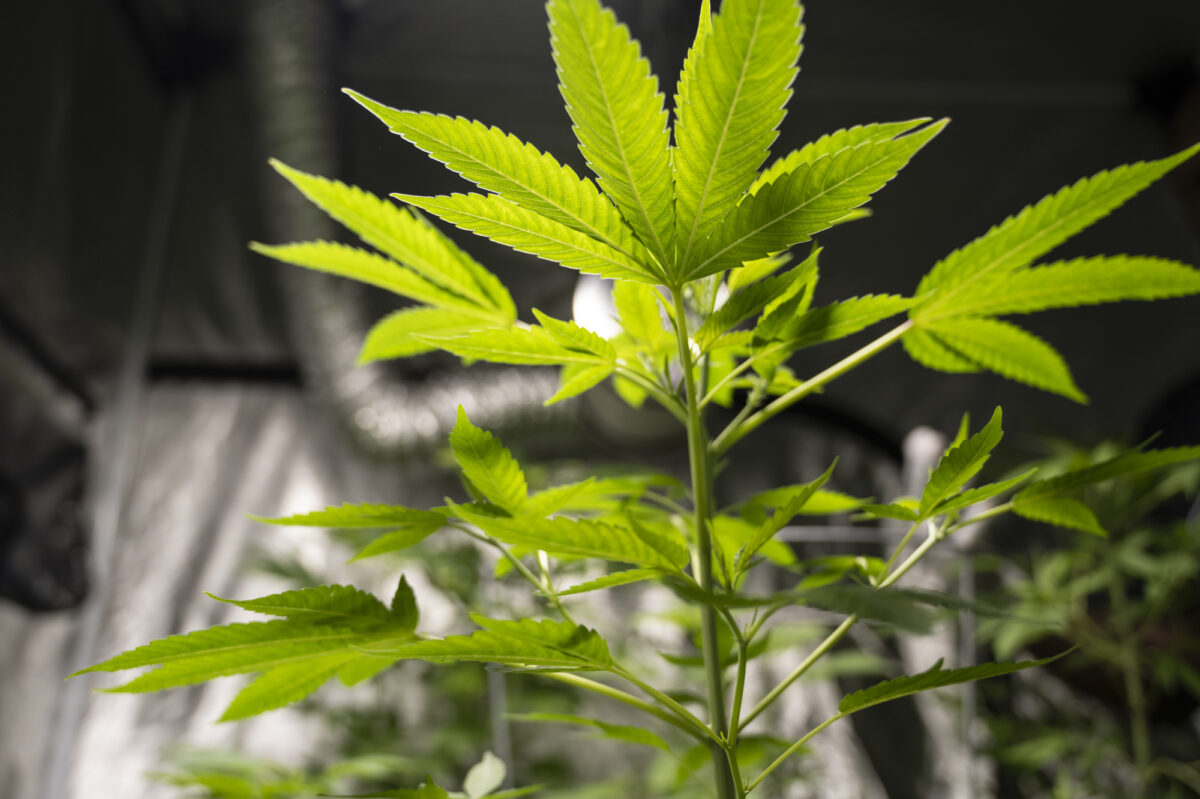 A long route to rescheduling
Shane Pennington, an appellate lawyer who focuses on regulatory litigation, told members of the rescheduling subcommittee that historically it takes at least 9.2 years to reschedule a substance. But according to Pennington, the process for cannabis is off to a speedy start.
"From the time of the initial request to Health and Human Services [from Biden] to a recommendation being transmitted to the DEA, [which] normally takes around two and a half years on average … we are beating that historical record by more than 50 percent," he said.
Pennington said that from a high level, the next step falls on the DEA conducting its own analysis on the federal scheduling of cannabis. He said it is unlikely that the DEA would move beyond the recommendations of the Department of Health and Human Services (DHHS) and that the DEA would lose jurisdiction over cannabis if it were descheduled completely.
"But what would not change is that the Food and Drug Administration (FDA) … would still have jurisdiction over cannabis because cannabis qualifies as a drug under the Federal Food, Drug and Cosmetic Act," Pennington said. "Because the FDA would suddenly be sort of without its partner — the DEA — sort of sharing federal jurisdiction over this very controversial nebulous area of law, now would be all by itself."
He said if the DEA aligns with DHHS, then drug officials will propose a new rule in the Federal Register to reclassify cannabis as a Schedule III substance. If that happens, Pennington said it would kick off a 60-day public hearing period where people can request to go on record before an administrative law judge.
"They're like many trials where you present evidence, cross examine witnesses and raise objections to the proposed rule," he said of the public hearings.
Pennington said once the trials and public hearings conclude, all of the information is recorded and given to the DEA "to resolve any lingering objections or issues that came up." The agency will weigh in on the findings from trials and public comment and make its final decision regarding cannabis scheduling.
Pennington said once the DEA publishes the ruling to the Federal Register, that a 30-day delay will be in effect before it's public. He said during that time, "anyone who believes that they were aggrieved by the final rule has 30 days to seek judicial review."
Effects on state-regulated cannabis businesses
At a commission meeting on Sept. 29, Howard Sklamberg, the top enforcement official at the FDA, said rescheduling wouldn't have "a tremendous effect" on how states operate cannabis marketplaces — besides changes in tax burdens and possibly increased access to banking.
Sklamberg said even though cannabis is an illegal substance under FDA statute, that the agency "has not done enforcement in this space and that there's no reason to think that it will." 
He said the FDA has not interfered with states overseeing legal cannabis businesses for decades, and that states can choose how to change their programs if scheduling changes.
"Is the FDA going to go in and inspect or enforce things [if cannabis is reclassified]?" Sklamberg said. "I think it will not, just as it is not now."