Horseshoe Las Vegas Visitor Accidentally Shot After Adjusts Pants
Posted on: September 1, 2023, 08:22h. 
Last updated on: September 1, 2023, 08:22h.
A retired Las Vegas police officer continues to recover this week after apparently accidentally getting shot in the leg while at a local gaming property.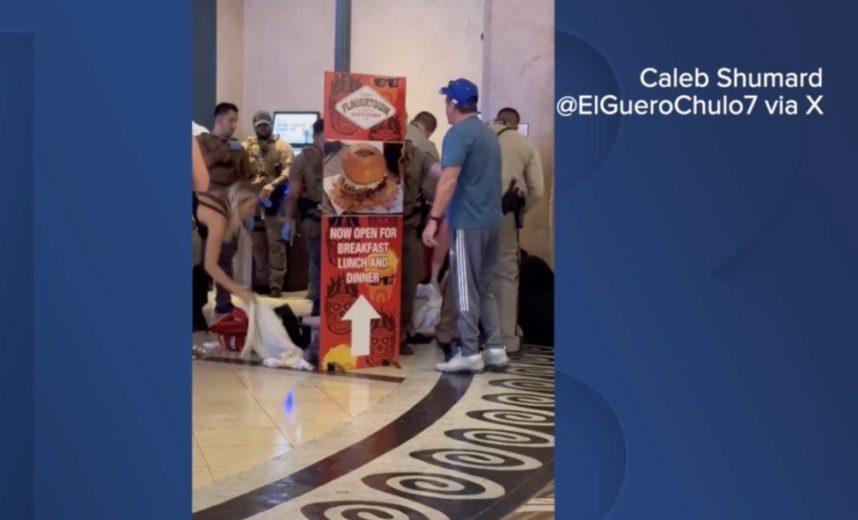 His own gun discharged for some reason after he adjusted his pants while he was on the casino floor at the Horseshoe Las Vegas last week.
The victim, identified as Andrew Thomas Sutton, 72, suffered leg injuries from the single wound on August 24, according to news reports.
The incident took place while he was strolling near a cashier's cage.
Other casino visitors and casino security officers rushed over to provide assistance after they heard the gunshot and saw him fall to the floor.
Las Vegas Metropolitan Police Department (LVMPD) officers and an ambulance EMT crew responded to the casino, too. They also provided initial treatment.
Metro officers investigated the incident, and watched video of the shooting taken by casino surveillance cameras.
He turned away, out of camera view, and … [next he was] physically jumping and then collapsing to the floor," according to a LVMPD report on the shooting.
Sutton was taken to University Medical Center for emergency treatment. He remained hospitalized and was listed in stable condition earlier this week, according to Las Vegas TV station KSNV. He told a reporter he was "recovering" from his injuries.
Police didn't release details on the extent of his wound.
Rules on Carrying Gun
So far, no charges were filed against him. It is legal to openly carry a firearm in most instances at a casino in Nevada, given that it is an "open carry" state and gaming properties are considered private property.
The weapon can be kept in a holster if it is discernable to others. But a resident must obtain a concealed carry firearm (CCW) permit in order to carry a concealed weapon, according to LVMPD regulations posted online.
It's unclear why he chose to bring the firearm into the gaming property. It also was unclear why his pants needed to be adjusted and whether they were slipping from his waist.
No one else was injured from the gunfire. The bullet apparently didn't cause damage to the casino property.
Cop Retired in 2013
Sutton formerly worked for the LVMPD, according to Las Vegas TV station KTNV. He retired from his post in 2013.
The Horseshoe Las Vegas was formerly Bally's until a recent rebranding. The Las Vegas Strip property is operated by Caesars Entertainment.