Encore Boston Harbor Avoids Strike, Reaches Union Contract
Posted on: June 29, 2023, 10:28h. 
Last updated on: June 29, 2023, 11:54h.
Encore Boston Harbor and the approximately 1,400 union members the casino employs have reached a tentative bargaining agreement. That will likely avert a potential strike at the Wynn Resorts property.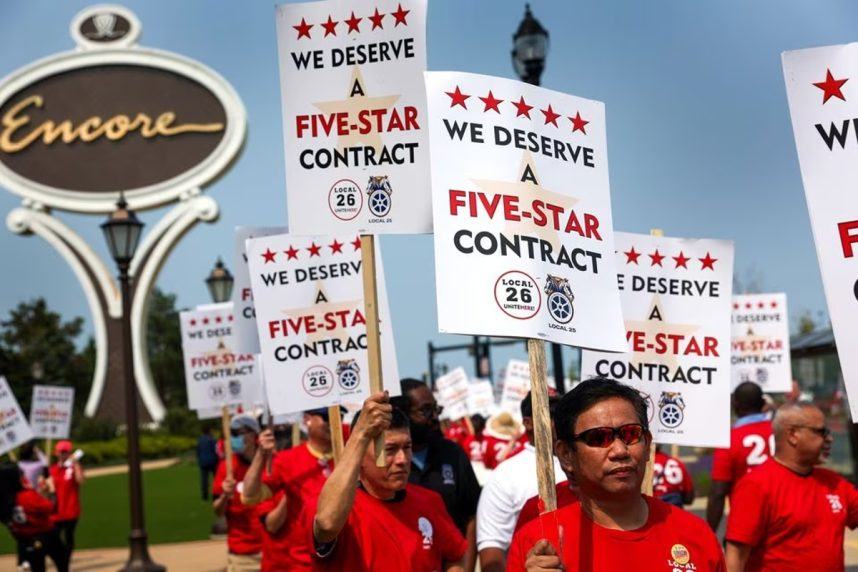 Encore Boston Harbor employees represented by the Local 26 chapter of Unite Here last week voted to authorize a strike at the $2.6 billion integrated resort. That would happen as early as July 1 unless a new collective bargaining agreement is reached. Union officials said 98% of the votes cast were in favor of authorizing a walkout should Wynn Resorts not meet the trade group's demands for a "five-star contract."
Union reps announced Thursday morning that such an arrangement has been tentatively reached. The contract needs final approval from the casino's union members, with that vote set for Friday, June 30.
Our bargaining committee is happy to report that this agreement achieves our goals of reaching a five-star contract equal to or better than the union standard at hospitality employers in Boston," said Local 26 president Carlos Aramayo. "I am also happy that Encore Boston Harbor did the right thing by bargaining an agreement that guarantees jobs at the casino will be excellent jobs."
Encore Boston Harbor is the richest casino in Massachusetts in terms of annual gross gaming revenue (GGR). The casino won nearly $729.7 million off gamblers in 2022. MGM Springfield was a distant second at $259.1 million.
Increased Wages
Unite Here Local 26 agreed to a temporary contract with Wynn Resorts for Encore Boston Harbor during the COVID-19 pandemic that saw workers' wages set slightly below union contracts in place elsewhere in Boston.
The current contract sets the minimum rate for union members at about $25 an hour. The Boston Globe reports the pay rate is $2 less than unionized workers at similar resort hotels in the region. Tipped employees such as servers are paid a minimum of $8 per hour, significantly less than other tipped union workers in Boston.
While neitheer the union nor Wynn Resorts commented on specifics of the tentative agreement, it's expected that the new terms bring Encore Boston Harbor employees in line with similar union contracts.
Wynn spokesperson Michael Weaver said it's part of the company's culture to provide strong, livable wages to its employees.
Our company is built on the fundamental philosophy that only talented and empowered employees, working in an environment in which they feel valued and well compensated, can deliver our signature Wynn and Encore guest experiences," Weaver said. "Therefore, we are very pleased that we were able to reach an agreement with Unite Here Local 26 and Teamsters Local 25 that fulfills our company's goal of providing outstanding benefits and overall compensation, among the highest for our industry in the state of Massachusetts."
Along with Unite Here Local 26, some workers at Encore Boston Harbor are represented by the Teamsters Union.
Only the Beginning
Encore Boston Harbor's market share in Massachusetts continues to increase, and the Las Vegas-based company has big plans in store for the resort's future. Wynn officials are seeking state and local approval to expand the casino's footprint south across Broadway.
The proposed $1.7 billion project would occupy a 13-acre parcel of land. The blueprint includes a WynnBet Sportsbook, 20,000 square feet of new restaurant space, a 999-seat theater, a 2,200-space parking garage, and a new "Memoire" nightclub. The expansion would be connected to the main resort via a pedestrian bridge.