California's Winter Snowpack Brings Dangerous Rushing Rivers This Summer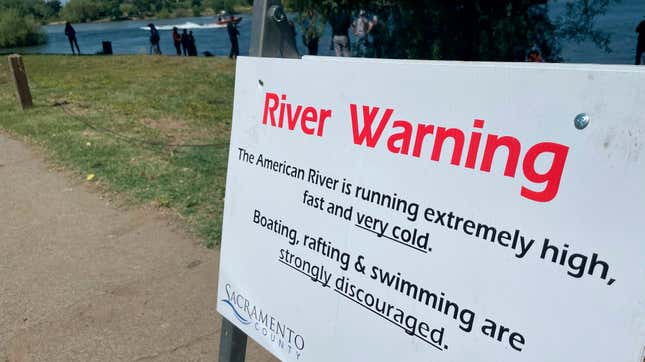 A series of consecutive snowstorms dropped a lot of snow all over California's mountains this winter. And now all of that snow is finally melting and filling up the state's rivers. It's making them larger, faster, colder, and extremely dangerous to swim in.
California's Snowpack Gets a Much Needed Boost | Extreme Earth
State safety officials are worried about the upcoming recreational activities surrounding this Memorial Day weekend. The concerns especially come after the city of Sacramento has already experienced 20 water rescues this year, the Associated Press reported. That's the same number of rescues the city saw throughout all of 2022.
Other parts of the state have seen river-related accidents this year too. In late April, a man was swept away in the American River in Auburn, California after he jumped in with some friends. He has yet to be found, SFGATE reported. And earlier this May, another man went missing after he waded into the Tule River near the Sierra foothills on a flotation device.
In response, the California Governor's Office of Emergency Services issued a safety reminder this Thursday, cautioning anyone that is going to visit rivers or state parks this weekend. Parkgoers were told to be aware of their surroundings and to research road and river conditions before heading to an outdoor recreational area. "Many parks and hiking trails have lakes or rivers nearby. Conditions could change rapidly and it's important to be prepared," the warning said.
Earlier this year, officials measured some of the highest snowpack ever in the state's Sierra Nevada mountains. During an early April survey, they found more than 120 inches of accumulated snow. It was a welcome change because so many of the state's lakes, rivers, and reservoirs rely on snowmelt every year to replenish water. And the snow this year has in fact helped increase water levels for important waterways like Shasta Lake. The winter storms and snowpack has alleviated the intense drought that California struggled through last year. The state is experiencing almost no dry conditions, according to the U.S. Drought Monitor. 
Want more climate and environment stories? Check out Earther's guides to decarbonizing your home, divesting from fossil fuels, packing a disaster go bag, and overcoming climate dread. And don't miss our coverage of the latest IPCC climate report, the future of carbon dioxide removal, and the invasive plants you should rip to shreds.